This article was written by Pablo Toledo, Rush Soccer's Sporting Project Director.
I normally tell our Head of Content that it is not necessary to add my name on fragments that I've written. I do that for two basic reasons: The first one is that I don't want people to think that the Rush Way is ultimately 'Pablo's way'. I didn't come up with it, I learnt it. The second reason is that I really don't care about the credit. I'm pretty good at managing my own ego, and among many flaws I do think that's one of the best qualities I have as a coach.
I break my own rule in this post because the opposite happens: This is Pablo's Way, not the Rush Way, and I mean to be honest about that because there is absolutely no science behind what I'm about to say, I did not learn it from anybody but simply came from self reflection, and I'm pretty sure there are better ways to do it, but this is mine and maybe by sharing it I can trigger some good thoughts on you.
The role of the coach in youth soccer is to facilitate environments that accelerate learning. That's a statement. That's why we talk about development in coaching and not so much about performance. That's why we have a 6-3-1 philosophy, and that's why another two million things.
Now, what I frequently see and I also experienced as a novice coach, was a conflict between the idea of developing and the idea of winning (or trying to win, because it's not really a choice). When I first started, even if this embarrasses me now, I just wanted to win and all of my decisions were secretly based on that. I'd say appropriate things in terms of development but my actions were not always congruent with them.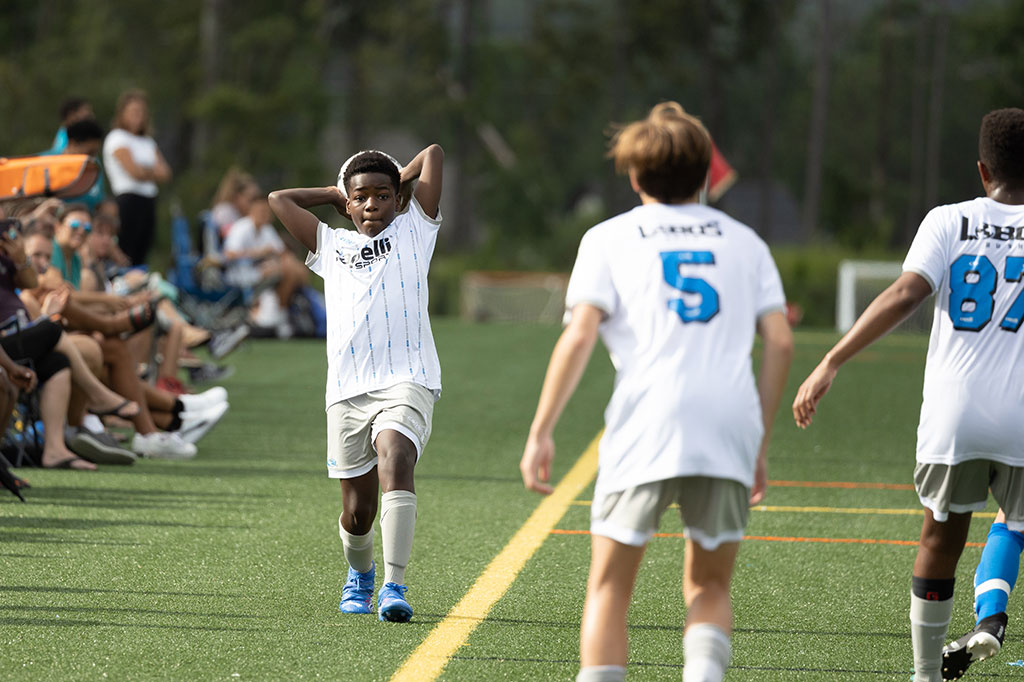 When I realized that I felt hypocritical and that I was really missing the ball, so I evolved into a sort of Himalayan coaching monk, and all I was focusing on was learning aspects, not caring about results, whether positive or negative.
There were some good improvements over that period, in which I learned to be more methodical in my observation, less reactive in my coaching, more rational, more thoughtful and purposeful, but over the years I realized that was also wrong. I was still missing the ball.
When I observe others coach, a large percentage of the time I think they are also going through one of those two phases.
What I realized over the years (it is important to put in the following context: I've been primarily coaching U16+ boys for years now), is that I needed to care about winning, because my players cared about it. I need to honor their desire to win the game and they need to feel that I care about it to sustain a top coach-player relationship. I needed to bring my emotions back, but control them, use them wisely. As you get close to performance stages, players will love you for the human aspects of the relationship but those relationships are firstly built on knowledge. Your players build the relationship with you over the foundation that they feel that they can learn from you and you can help them win, otherwise you would just be a great guy/gal to them but they would probably prefer somebody else to coach them.
Once again, this might be very different for younger age groups as we get further from performance stages. I'm saying this in the context of my current U17 Boys MLS Reserve team, so the reference is specific.
All of this said and this personal journey covered, I started wondering how I could coach a game in a methodical way and balancing both aspects instead of constantly battling them and placing them as opposites when they're not. That way, I came up with this very, very simple approach that has been very effective to me.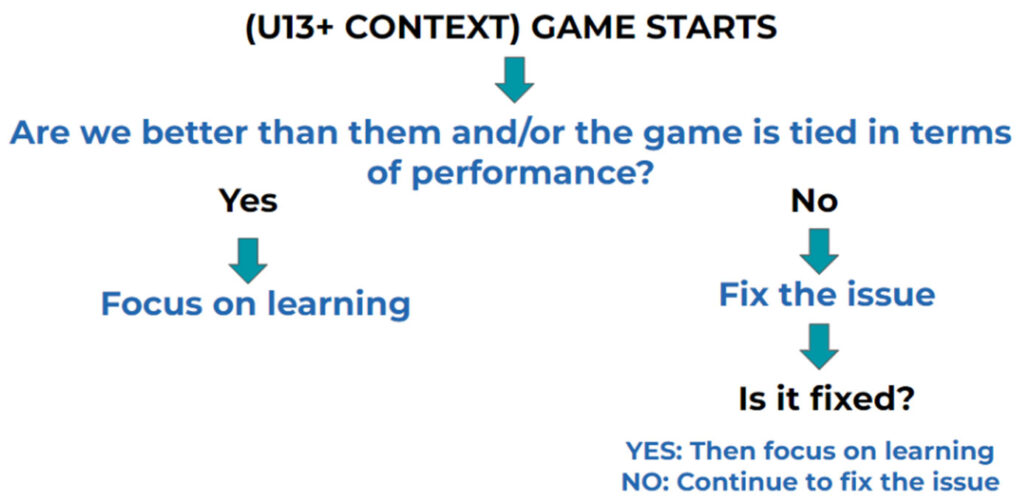 The approach is simple and it organizes my coaching during the game to remain focused, purposeful, and avoid randomness and constant reactive behavior.
The game starts and I observe our performance for at least 10 minutes. If I feel like the competition is even or we are better than the opponent and there are no major problems, I immediately switch my attention to favoring learning. What I mean by that is that I place my focus on aspects that we've been training and trying to improve. Let's say it's been playing out of the back. There we go then, all I focus on is how we are doing there, reinforce concepts, praise when we do it right, etc. If we make a mistake on the attacking third, I don't care, that's not the topic today. If see it repeatedly, I'll just write it down to work on it in the future, but I don't allow myself to get wrapped up on it, avoiding randomness. This sounds basic (and it is) but can be very useful, because in most games you will see fifty million mistakes (and virtues).
On the contrary, if within those 10 minutes of assessing performance I conclude we are having problems, it is my job to fix it. I can't focus straight on learning unless it's directly correlated. Imagine that learning today refers to bouncing the ball on the striker to attack the goal and we are having major issues defending on the flanks or with our pressing approach. The players would look at me like saying "coach, what are you talking about? Do you not see that?". Again, I can't focus on learning without first honoring their desire to win the game and putting them in a good spot to do so. And trust me, as you start training good older players, they know football and what they're talking about. If you say something stupid twice or you miss a couple big problems that are obvious to them, you lose the group because that initial foundation breaks. So the approach is simple in that way, focus on fixing the problem, take some actions, observe again and then question yourself the same initial question: "Are we better than them?". If the answer is yes, you know what to do, and if the answer is no, keep your focus on fixing the problem.
I'll wrap this up with an initial comment. This is not scientifically proven but purely an approach I've developed through experience. Far from rocket science (does it need to be anyway?), but if you ask me that question: "Can you try to win the game while focusing on developing players?" I'd say absolutely yes, and this is how, at least I, do it.