By Sean Connors, Rush Soccer's Global Goalkeeping Director.
When I ask Goalkeepers "What is your job when defending a free kick?", I hear a lot of different answers:
Set up the wall!
Tell everyone how many players go into the wall!
Line the wall up off the post!
Make sure the tallest players go in the wall!
Get everyone marked up!
The Goalkeepers #1 job on a Free Kick is to NOT LET THE OTHER TEAM SCORE!  It is a very simple job by description but more difficult in execution. 
When the whistle is blown the GK must focus on the ball.  Stay engaged and ready for any potential shots. Until the referee makes it clear that the ball must be restarted on their whistle, there is always a chance for a shot.
Watch the video below to see lots of quick free kicks examples:
In most of these cases the GK prioritized setting up the wall once the whistle was blown. Remember, do not leave the ball line until the referee declares the ball must restart on their whistle.  In the meantime it is the teams responsibility to delay the kick and set up the wall on their own. 
Basic Wall Positioning
The wall is a resource for the goalkeeper to defend a direct free kick from a dangerous, scoring distance.
The basic positioning of the wall aims to cover one side of the goal, with the goalkeeper standing from the middle to the opposite post
Split Wall
The Rush Way suggests using a split wall, in which one of the players (the closest to the goalkeepers side) separates himself from the wall, in order to cover the imaginary line that goes from the ball to the keeper's post.
The Goalkeeper searches for a position that allows him to look at the ball directly in the gap that the wall presents.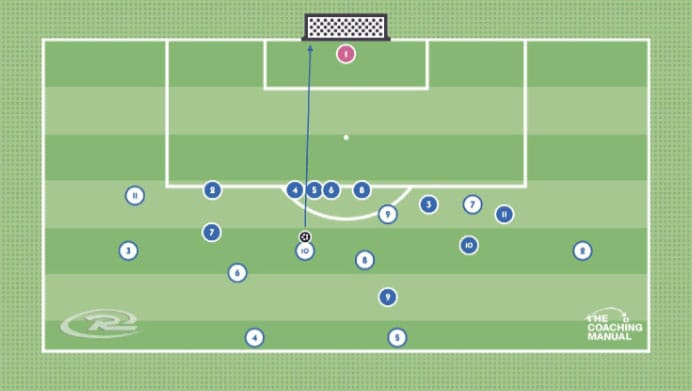 The Position Of The Ball
The graph below exemplifies the incidence of the ball position over the number of players. As we said above, a shot coming from the flank is not equally dangerous to a shot coming from the penalty arc, so that affects our wall setting: The farther from the middle, the fewer players we want on the wall.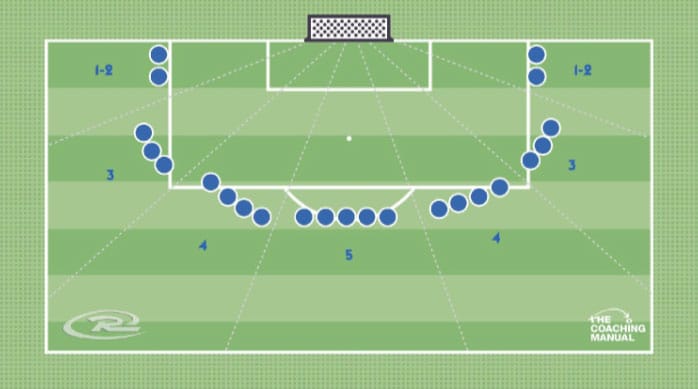 For additional resources, read the Rush Way: Defensive Set Pieces, in the Rush Coaching Manual.