Rush Soccer counts on numerous talented, brilliant female coaches and personalities, and we want you to meet them. This quarter we present the fantastic Nicole Lukic, from Rush WI West.
Megan McCormick, Rush Soccer's Coach Education Consultant, interviewed our guest on a brand-new episode for The Rush Podcast Network. But before diving into the enriching Q&A, check some of Nicole's highlights:
Currently excels as Technical Director for Rush Wisconsin West (since 2015) & Rush Select Manager (2016).
As assistant coach for the UW-La Crosse soccer program, Nicole helped guide UWL to win the 2017 Wisconsin Intercollegiate Athletic Conference (WIAC) Championship.
First full-time assistant soccer coach at UWL.
Awarded as 2017 WIAC Coaching Staff of the Year & United Soccer Coaches North Region Staff of the Year.
In 2015, the NSCAA named her to their top 30 under 30 class where she was 1 of 15 female coaches across the country to be selected.
Nicole holds an USSF National B coaching license (earned in 2018) and a Director of Coaching Diploma (NSCAA, 2016).
She is also a staff coach for the Wisconsin Olympic Development Program (ODP).
As a player, Nicole played four years (2007-2010) of NCAA Division 1 Soccer at the University of Wisconsin-Milwaukee.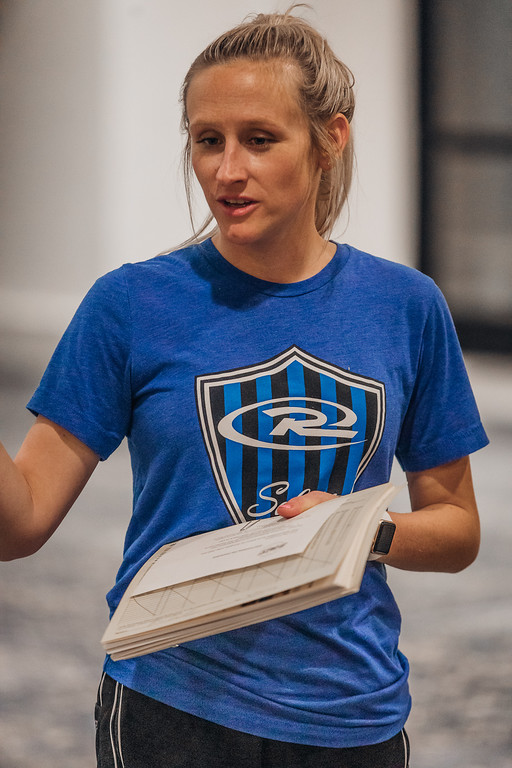 Nicole's pathway could have been a lot different. She had a promising career as a soccer player, but painful injuries didn't allow her to fulfill that dream. Far from letting that punch knock her out, she overcame to become a superb coach.
"I suffered injuries in college, and I knew right away that I would be lucky to finish my college career. So, unfortunate but fortunately, that made me think about other things and coaching was a good thing for me. I had really good coaches growing up, so it was an easy 'yes' for me to hang out with them and learn things about the game. It is definitely different from playing, it's a process because it's a different role", she explained.
So, how was the transition from player to coach?
"One of my youth coaches, she always got our team involved in junior coaching. I started doing volunteer staff at 16. In college, in my freshman year, one of my old coaches took a High School job and asked me to join his staff.
After I graduated from college, I took a full-time job in the business world and I was coaching for a club. It only took me a few months to understand that the best part of my day was coaching. Then I took a chance on a very small side, Division III Assistant Coach job. And from there things really changed for me. I got approached by the club in town, they said 'do you want to be our Director of Coaching?'. I signed up and really took off from there".
When did Rush Soccer approached to you?
"We started as a satellite of Rush Wisconsin and Ben John is the one who really brought me into the Rush. There are so many great things about the Rush, one of them being all the resources we have and fantastic people that are involved".
Nicole is one of the main reasons of Rush WI West's success. How did she manage to accomplish that?
"Really trying to figure out what did other Rush clubs successful and how we could implement that here. We really had to work to change the culture here, because before, players were just signed seasonally, there was not yearly training. Working through all the things and building a strong team and board took as where we want to be".
Our Monthly Campaign is Managing The Performance Environment. Nicole believes that paying attention to each kid's desire -whether to become a Pro or just playing for fun- is key:
"We are focused on developing individuals over teams. We get that, helping a kid play Division II or Division I or even Pro, is more obtainable for us (in comparison to winning a State Cup, for example) and we focus on how we build our training sessions. We have the Center Program to help that process, I personally coach those sessions. We are aware of the fact that not everybody wants to be that person, some people just want to play soccer for fun, and that's good. So, it is a constant challenge to find the right balance and try to make everybody's experience what they want".
What about your duties at Rush Select?
"My main role is administrative. One of the biggest things I oversee is the invitation process for players, so I get to work with the coaching staff from all over the country to help select the best players for the teams and send out and continually track the invites, answer the families questions. We do all kinds of different events throughout the year: centers, HUB, International Trips. This year I was lucky to be the Head Coach of the 07 Girls and Assistant Coach for the 04 Girls".
WOMEN'S GAME:
Growing up, Nicole developed her passion for the game watching men's soccer. The women's game was not promoted enough, and she looked up for male role models. Now, she is delighted to see how -with still a long way to go- things are starting to change.
"When I was 16, 17 or 18, the players I was watching were Champions League players. I was a big Arsenal fan, I wanted to be Thierry Henry or Cesc Fabregas. Those were my heroes. We didn't have social media, but now I listen to the girls talk about Alex Morgan or Lindsey Horan. It is crazy how different it is and it's an excellent thing.
There are certainly more opportunities. It is just the visibility, girls can now have ambitions and set goals, like playing for the Chicago Red Stars. When I was that age, my dream was to play in the Arsenal's Men team. Now it is real, is something they can ambition and picture".
What advice would you give to those women and men that are beginning their coaching career?
"Stay positive, believe in yourself and use the people you trust to lean on. I think is something I learned as a player. Before I was injured as a player, I was pretty selfish. It was about me and my pathway and my mindset. I kind of really shifted after the injury and tried to make the most out of everything".
Remember: You can listen to the full interview with Nicole Lukic on The Rush Podcast Network.