This article was written by Pablo Toledo, Rush Soccer's Sporting Project Director.
I've mentioned this before: When we think of high performance, we normally place most of our attention into the training aspect. The tendency with training is to think that the more the better, and that's something to beware of. 'You got up today and trained hard, well you gotta get up tomorrow and train even harder, son, and if you did 20 today, well tomorrow you gotta get 25'… and it's not really like that. I call it 'the Rocky Balboa fallacy'.
Please don't read this as an extreme, nothing is black or white. Training is definitely a key aspect and if you want to accomplish something within a sport or athletic discipline, you'll need to train really hard, be driven and consistent, but you should also allow time and be mindful of the importance of resting (physically and mentally). Training is one of the cornerstones of performance, but the other two edges of the performance triangle are Nutrition and Rest.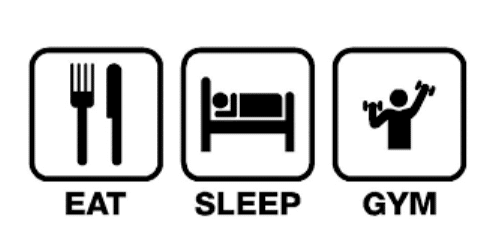 I don't mean to sidetrack but I do feel obligated to put this in context and make an important distinction: If we are talking about pre puberty players, these little fellas recover very very quickly, so I personally (this is purely my opinion) do not promote 'forced' or 'planned' rest, I don't think they need them, they can play as much as they want to. Please note that I used the word PLAY, not TRAIN. I get that question a lot from parents: "My 10 years old son/daughter really likes soccer and wants to be as good as he/she can possibly be, how many times a week do you think he/she should train?". The answer I give is always the same: "He/she trains enough, now Play, no limit, as much as he/she wants to, the more he/she wants to play the better!".
A friend of mine says "kids don't get tired of playing, they get bored of working, and if you don't believe me try calling them to dinner when they're playing, they beg you for another minute! But it doesn't really go the same way when they're doing homework, does it?".
This matters because one of the main problems we have in the US Soccer landscape is early desertion of players from the sport because they burn out (we burn them out, parents and coaches, to be transparent and to take responsibility for it).
All of this introduction serves to offer a foundation for the following comment:
Sometimes, the best thing you can do during the holiday break, is leave the soccer aside for a second. Maybe don't force the break from it, but also don't push for it's continuity.
That doesn't mean we should focus on eating cookies and sitting on a couch for fifteen days to watch Christmas movies and completely lose our shape, it means we can take the opportunity to ease the mind and still be strategic and smart about staying fit.
In the post Holiday Performance Plates we already shared with you some cool tips about how, from a nutritional standpoint, you can enjoy the holidays without getting too much out of line on your diet.
Something important to consider, apart from the aforementioned benefit of resting the mind, is that this period can also be an opportunity to recover from injuries and pains that result from overuse. In soccer, just like in any other sport or athletic discipline, there are sporting specific movements that repeat and predominant muscle groups and joints that support these. In ours, it is obvious that the lower body muscles and joints are predominant and overloaded by the nature of the sport, so it's more frequent to suffer injuries, or pains in our ankles or knees, or severe soreness in our hamstrings, quadriceps, calves, among others. That's why a lot of professional players, during the off season periods, start by taking a full break to let the body recover, and then they cross train.
We've seen players like Antoine Griezmann or Sergio Ramos play basketball, or Carlos Tevez and Gareth Bale play golf, or Paolo Maldini play tennis, etc. Even if you could say that some of these are also heavily based on the lower body, this can still be beneficial because the specificity of the movements vary across sports, and also because the mind continues to rest. Cross training can be smart. A very good idea is to swim, for example, but if you choose to plan around this idea of cross training, I'd personally suggest making sure you're not pushing for a discipline that the athlete does not enjoy. That would defeat the purpose of easing the mind.
I really hope you find a couple useful tips in this article. We wish you the best in these holidays. Enjoy!