This article was written by Chris Rue, Futsal Manager
I am constantly bombarded with parent and player questions about attaining goals of "making it" in soccer. Whether the goal is Professionalism, College, or making the All-Star team, decision-making more often than not hamstrings most players. Players can spend countless hours honing their touch, becoming a physical specimen, and developing ball-striking techniques, but how do we create better decision makers?
In order to make better decision makers, we need to place players in environments at an early age where they are constantly asked to solve problems. This does not occur with private training or repetitive pattern drills that are far too common in youth soccer. Most coaches that I speak with all agree that players need to play the game more often. Unfortunately, they lack the conviction to practice what they preach mainly due to parental influence. Parents enjoy the compartmentalized training that we see a lot of. Kids working unopposed with a ball performing certain tasks is easy for them to understand. A small sided game or a possession session looks like chaos to them.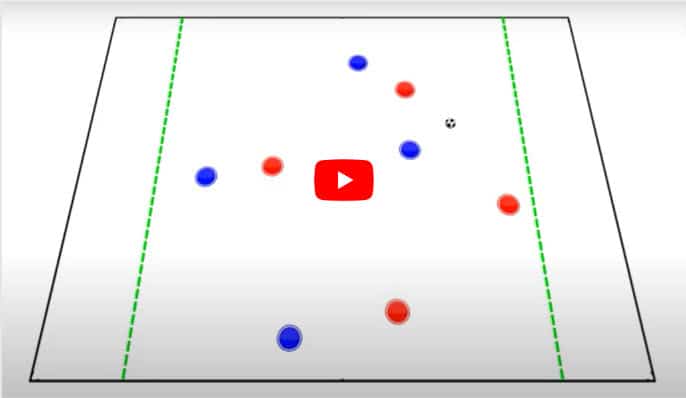 The 4v4 game forces all players to be involved and will guarantee plenty of repetition and decision making. Defensively players will no be able to "hide", it will alow a team to press immediately and allow the players to understand the basi defensive principles and will repeatedly allow teams to deal with frustration.
What may look like chaos is actually what players need massive doses of while their brains are developing. This is the type of equation that the player can wrap their head around. Before long, the visual cues repeat, and the player begins to anticipate the next action. For instance, those of us who have been involved either watching or playing the game at a high level, know the cues to recycle around the back. We see the right fullback with the ball. The player pulls the ball back to play a deeper right center back. Almost immediately, the left fullback anticipates the ball being recycled and creates space to receive the ball, before it is played to the left center back. These small instances occur all the time in the game and force players to make decisions based on the information that they are acknowledging. The quicker they can see the cues, the faster they can respond.
An easy way to give more time in this environment is to set up small sided, 4v4 games as players arrive. I like to have the fields set up a half hour before practice. As players arrive, we simply start dividing the players into teams. Starting with 1v1 until we reach 4v4 on a field. When that field is set, we start with the next, 1v1 to 4v4. In my experience, this ticks two boxes. Firstly, we get the players to train making decisions. Secondly, and almost more importantly, we see players arriving half hour earlier to training and running from the car to the field with excitement to play. We typically allow these small sided games to continue for 20-30 minutes. In our club, where we train 4 times a week, a player can get up to 160 hours in this stimulating, decision making environment which will pay dividends in the future.
"There are so many players in soccer with great talent, but their actual understanding of the game is poor, and that's the difference between good and great. It's getting the decision right, which changes it all"